Register to the final conference of the project!
Join the final conference of the Clim'Foot project in June 2018!
The aim of this conference is to present and promote the projects results as well as inviting European stakeholders and policy makers to join the initiative. The conference will take place in Paris, Thursday, June 14, 2018!
Backed by the conference "Climate 2050: towards a decarbonised world", this conference will present the European project Clim'Foot and its results, to a wide variety of actors (public or private organisations, decision-makers, etc.). You can download the draft programme on the right side.
The conference will focus on the activities implemented during the project and its results:
The Clim'Foot database: a common methodology for 5 National databases
The Bilan Carbone© Clim'Foot tool: an adaptation of the tool for the calculation of carbon footprint of organisation
Creation and implementation of online and onsite trainings
Five different voluntary programmes for five countries
The cooperation platform: the flagship tool of the project
The second part of this conference will be devoted to roundtables allowing the decision makers and organizations involved in the project to testify:
Rountable: Policy makers involved in the project testify!
Rountable: Feedbacks of organisations participating in the voluntary programme
Why should you participate in the conference?
Discover a European project in depth
Meet and discuss with the project team
Have the opportunity to take part in the project
Discover the actions of ADEME on carbon accounting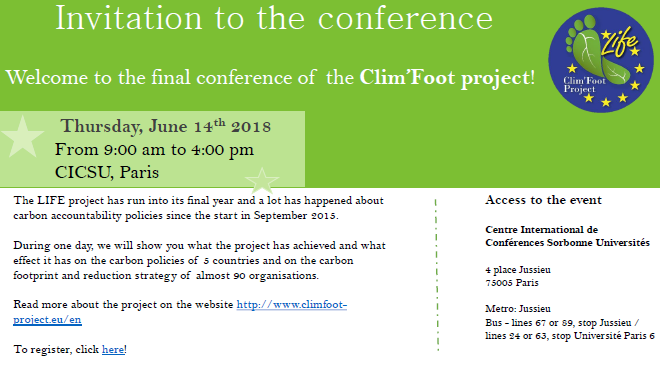 You can register to the conference by clicking here!
A special workshop will follow the conference, Friday morning, June 15, 2018. It will focus on the replication of the experience and train new policy makers, to implement ambitious public policies for reducing CFO and to replicate the project outcomes.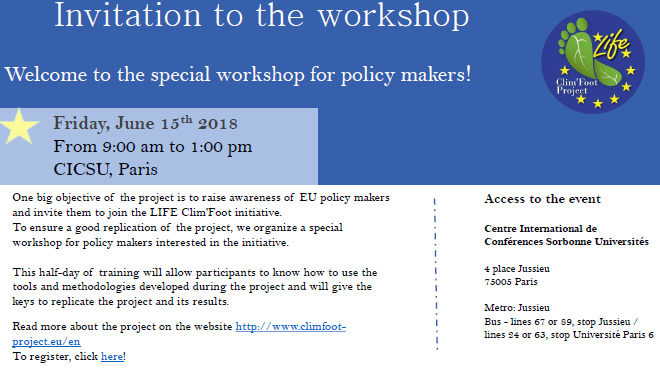 You can register to the workshop by clicking here!
We wait for you!