Practical case for Croatia
The Croatian partner, Energy Institute Hrvoje Pozar (EIHP) has prepared 172 country-specific emission factors calling in private subcontractors for energy sectors. The number of the Croatian emission factors per category is shown in the table below.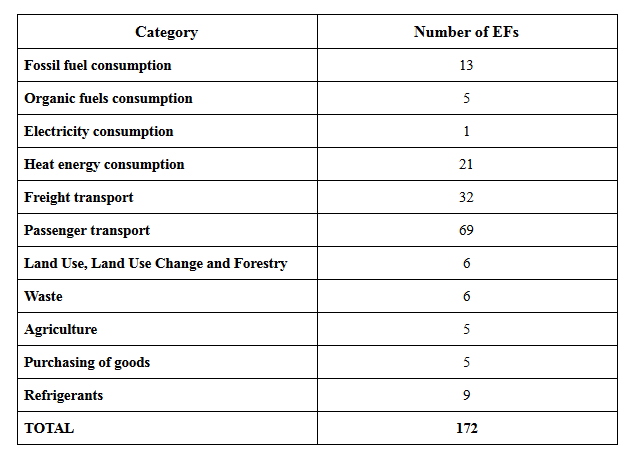 The main reference for the methodology to develop the Croatian carbon footprint database is the 2006 IPCC Guidelines for National Greenhouse Gas Inventories (2006 IPCC Guidelines) that defines the methodology to calculate GHG EFs. The Croatian National Inventory Report 2017, Greenhouse Gas Inventory 1990 - 2015 (Croatian NIR 2017) contains data and informations on EFs for the following sectors:
Industrial processes and product use,

Land Use, Land Use Change and Forestry (LULUCF)
NIR contains data from the relevant National DBs, such as Energy Balances, Statistical Yearbooks, Environmental Pollution Register, Waste Management Information System as well national scientific research.
Information about EFs have been also collected from other existing sources that are consistent with the Clim'Foot approach. For this purpose, data from European/International databases have been considered whereby the issue of harmonization to national circumstances has been taken into account. The following databases have been analysed:
EFDB - Emission Factor Database (IPCC – International),

Base Carbone

®

(ADEME – France),

ELCD - European Life Cycle Database (JRC – EU)

and Bilan Carbone® tool - version 7.4 (2015).
For each sector, a technical description presents the relevant informations on processes and national circumstances that are important for understanding in which way each process contributes to GHG emissions. The calculation methods and metadata are listed in EF Database Croatian Report pdf file.
For example, in Croatia, the heat is produced in different heating systems and certain cities have an autonomous district heating systems. To calculate the appropriate CO2e emission factors, the circumstances have been analysed in each cities. Additionally, solar thermal collectors and geothermal heating systems were analysed and appropriate emission factors have been determined.
The constitution of the Croatian carbon footprint database has allowed them to identify product and process benchmark in relation to the sectors standards and it provided them data on several economic sectors.
See the practical cases for Hungary
See the practical cases for Greece
See the practical cases for Italy
See the practical cases for France
Or return to the menu.