Practical case for Greece
The Centre for Renewable Energy Sources (CRES) has prepared 173 national emission factors. Emission factors from energy sector and transport sector were mostly developed. The number of the Greek emission factors per category is shown in the table below.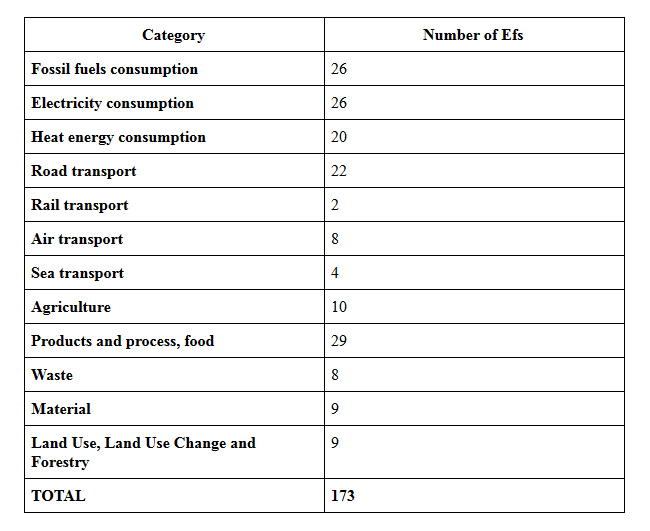 The National Inventory Report (NIR) was used as a reliable data source for sectors it was feasible and as a guide for key data sources and calculation methodologies. However, due to the level of disaggregation required for the definition of national emission factors and the lack of detailed data in the NIR, several other sources have been also used for the constitution of the national database, such as Life Cycle Inventory (LCI) databases and literature data.
Moreover, emission factors have been calculated according to the methodologies provided by:
2006 IPCC Guidelines for national greenhouse gas inventories,

EMEP/EEA air pollutant emission inventory guidebook 2013,

and DEFRA methodology paper for emission factors.
The main issue encountered during the constitution of the national database was the lack of detailed data, which in some cases led to assumptions. To avoid significant errors due to unreliable data input, in some cases it was decided to focus on the methodologies, approaches and emission factors that allowed to obtain a certain degree of reliability.
For example, in Greece, the calculation of domestic aviation EF was based on the detailed EMEP/EEA methodology. The focus was on domestic passenger flights, as the available data on domestic air freight were uclear and presented several ambiguities.
Another issue encountered was the lack of disaggregation of the GHG EF. These data present some issues regarding their applicability for calculating the carbon footprint of the organisation with the Base Carbone® tool.
The calculation methods and metadata are listed in EF Database Greek Report pdf file.
See the practical cases for Hungary
See the practical cases for Italy
See the practical cases for France
See the practical cases for Croatia
Or return to the menu.