More recent tools to go further
Overview of the Bilan Carbone version 8
As explained in the first pages, the Bilan Carbone Clim'Foot tool provided here is a simplified version of the ABC Bilan Carbone © tool. The last version of the Bilan Carbone © (version 8) brings an adjustable methodology, allowing to develop a continuous improvement approach and a better GHG emissions reporting.The methodology allows to deal with GHG accounting in depth, making the link with organization strategic analysis and suggesting the best practices in regard to action plan.
The methodology has been updated in order to be adapted to different levels of maturity: a starting organization will find all its needs to do a first reporting, when an organization already involved in reducing its emissions, and working on its low-carbon transition will find best practices to keep doing better.
Different functionalities are also included to facilitate the use of the tool:
an activity data management spreadsheet allows the user to archive the documentation and make the data monitoring easier, in particular in case of a new calculation ;

the main spreadsheet is simplified and includes now export formats for the CDP survey and prepare for he new version of the ISO 14064-1:2017 ;

new tabs of emissions factors management allow to add easily your own emission factors ;

a new action plan management spreadsheet allows you to detail your actions in depth and to insure the action plan monitoring
Comprehensive overview
The GHG accountability is the first step to insure your organisation is ready for a low-carbon transition. You will find below the different methodologies you could follow to assess your emissions, and then to insure the existence of your organization in a low-carbon society.
Overview of the principles behind GHG accounting & strategic analysis methodologies
To see the answer of the quizz, just move the mouse over the picture!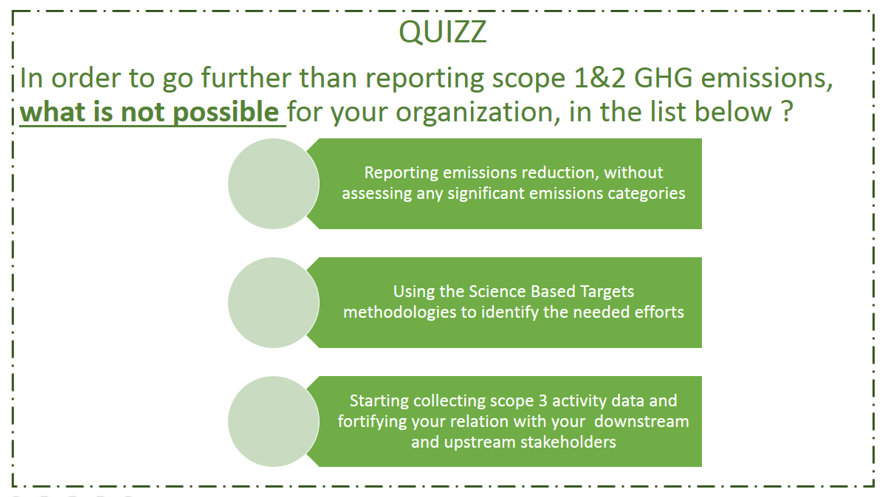 These methodologies will be explained more in the next part of the toolbox, dedicated to the action plan. Or return to the menu.
If you are an organisation (end-user), you can see know the way to define a reduction action plan here.